I woke up at 5:30 the other morning with some ideas for Christmas cards. So this is what I made.
I used the new Tim Holtz Christmas background stamp from the Seasons Silhouette set. Isn't that background stamp cool? I also used the holly leaves and tree from the same set. The music stamp is from the Mini Holidays 2 set from Tim Holtz. I'm having fun playing with all of these fun stamps and inks.
The pattern paper is from the Making Memories Mistletoe line and the BoBunny Father Christmas Collection.
I'm also really liking the great pictures from my new iPhone.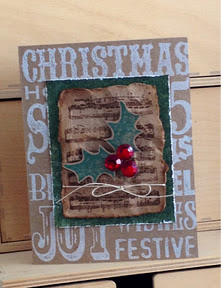 - Posted using BlogPress from my iPhone